In what might be the last Out to Lunch Festival as part of the EU, organisers will be delivering an extra special programme of life-affirming sustenance for troubled times.
The 14th Out to the Lunch Festival programme – which takes place from 4-27 January 2019 – was unveiled today and is set to serve up a heady menu of live music, comedy, theatre, literature, film, spoken word and hot food to nourish the soul and the belly during the longest, darkest month of the year.
Music highlights include folk superstar and all-round living legend Andy Irvine, the insanely talented Teddy Thompson, Donegal's finest harmonising trio The Henry Girls and a rare Belfast show by Mull Historical Society which will feature Bernard Butler who produced the new album Wakelines.
Then there's a reimagining of The Pixies classic Doolittle on its 30th anniversary with Arborist, Hand Models and Sister Ghost, master of the Lap Steel guitar Martin Harley, the launch of Grainne Holland's new album Corcra with Brian Finnegan, Sean Og Graham and Liam Bradley,  Niamh McGlinchey lighting up the Black Box, Linley Hamilton and Kyron Burke's wondrous new jazz project The Sazeracs and an unmissable celebration of Barbra Streisand featuring Lady Portia Di'Monte and Marion Jordan in Babs' Broadway Lunch.
Lovers of Joyce's short story The Dead can watch John Huston's classic film and enjoy a sumptuous Joycean Christmas meal and we showcase two of Belfast's finest prose writers today Wendy Erskine and Rosemary Jenkinson.
For film lovers we have a real treat with the Buster Keaton classic The General performed with a live musical score by Haiku Salut, a folk/electronic trio from Derbyshire. We have the Irish premiere of a new documentary on Chris Sievey aka Frank Sidebottom called Being Frank and we raid the archives for 3 short Irish poetry films about or featuring Seamus Heaney, Patrick Kavanagh and Damian Gorman.  Out to Lunch dons its spandex and air guitar for a 35th anniversary screening of THE definitive mockumentary This is Spinal Tap followed by our rocktastic Spinal Tap karaoke.
Other highlights include Opera for Lunch with NI Opera Studio's show If You Can Find Me featuring the songs of Stephen Sondheim and a Seedhead Lecture entitled Belfast's Wild Larder with Clare McQuillan and a special launch of artist Raymond Watson's sound art piece Unlocking.
These shows complement those already announced including Marian Keyes & Roisin Ingle (Sold Out) Nish Kumar (Sold Out), Steeleye Span (Sold Out), Bronagh Gallagher (Evening Show sold out), Lucy Porter, Don Letts, London Astrobeat Orchestra performs Talking Heads, The Dodge Brothers, King Kong Company, The Delines, Scott Matthews and Lost Voice Guy.
Out to Lunch Director Sean Kelly said:
"These are uncertain times in so many ways, but Out to Lunch aims to light up January and with a world class menu of music, comedy, art and film. Over the past 14 years, our 'show and lunch' idea has really captured people's imagination. Come January 2019, we'll be on hand to lift spirits and hearts with a month of great food and world class entertainment!"
For further programme info or to book tickets for Out to Lunch Arts Festival, please go to www.cqaf.com
For further info, images or to arrange an interview please contact Joseph Nawaz on 07599 798472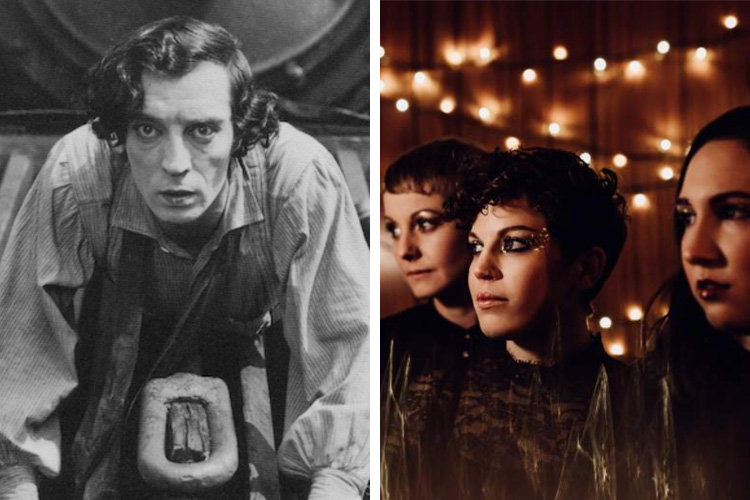 The Buster Keaton Pictureshow -The General + Live Score by Haiku Salut
The Black Box
Wednesday 9 January, 7.30pm